4.THE DIVINE SONGS - DHIVYAPRABHANDHAM




Naalaayira Dhivyaprabandham




Ullam Urai Seyal Ulla Immoondraiyum Ullickeduththu Irai Ullil Odunge
[Thiruvaimozhi 2100(1-2-8)]


Seedhak kadaluL amuthanna dhEvaki
kOdhaik kuzhalaaL asOdhaikku pOththandha
pEdhaik kuzhavi pidiththuch chuvaiththu uNNum
paadhak kamalangaL kaaneerE ! pavaLa vaayeer vandhu kaaneerE !!
[Periyaazhvaar Thirumozhi 23/1000 - 4000]


DhEvaki, the woman like the nectar of cool ocean, gave a innocent baby to YashOdhaa who decorated her hair with bunches of flowers.That innocent baby who enjoys sucking his little lotus feet's big toe.Hey! ladies with coral like lips, come and see that innocent baby's beautiful lotus feet.

Radhekrishna!!! Wish you all a happy Sri Jayanthi and Janmaashtami.

Radhekrishna!!! this is the great song [paasuram] of Sri Periyaazhvaar.There are 20 paasurams in which Sri Periyaazhvaar describes Bagawan Sri Krishna's beauty starts from this paasuram. Sri Periyaazhwaar started paasuram with Bagawan Sri Krishna's feet and he finished with bagawan's curly hair.

The most beautiful thing in this universe is Bagawan Sri Krishna.Everyone has the right to enjoy Bagawan Sri Krishna.In this paasuram [song] Sri Periyaazhvaar became a gOpi and enjoyed the real fascinating beauty of our Lord Kichcha. He wanted everyone in this universe with gOpi bhaavam must enjoy this admirable beauty of Bagawan Sri Krishna. So he invites all jeevathmaas to enjoy the great evergreen beauty of Sri Krishna.In this paasuram Sri Periyaazhvaar expressed his inner respect towards DhEvaki and YashOdhaa.Yes! these two woman are really gifted to enjoy Kichcha in this universe.Salutations to these female role models who showed a perfect path to enjoy Kichcha as a son.

Radhekrishna!!! DhEvaki was like the nectar from the cool ocean.She suffered a lot and faced many problems to enjoy Bagawan Sri Krishna.But she never bothered for the problems and sufferings which was given by her brother Kamsa.That is the spirit which everyone must have.One must ready to face and sacrifice anything to get Bagawan Sri Krishna.DhEvaki lost her 7 babies before she gave birth to the omnipotent Bagawan Sri Krishna.She was imprisoned during her pregnancy.But her mind was totally immersed in bagawaan's namasankeerthanam.The sanaathana Hindu Dharma gives high importance to the mind only. Wherever one may live, our mind should be fixed with Bagawan Sri Krishna.

That's why DhEvaki never bothered about being in the jail during the pregnancy. Nowadays scientist's are telling that the mental attitude of parent affects the mentality of the baby. So, the parents are major responsible for the baby's life. Even though karma also playing a major role in baby's birth, parents are also equally responsible for that. DhEvaki never minded her surroundings and situations, she just did continuous chanting. She had totally surrendered herself to the lotus feet of Bagawan Sri Krishna.

In Naradha Bakthi Soothram, Sri Naradha Maharishi says the following sloka;



adhaa SarvaBhaavEna niSchinthai: BhagavaanEva Bhajaneeya:
(Naaradha Bhakthi soothram - 79)

Meaning.....

Always, in every state one should always think of the Lord alone and nothing else!
In Tamil - eppozhudhum, ella nilaigalilum vEru chinthanai illaamal bagavaan orvanaiyE bajickavEndum


So you have to do continuous chanting without any thinking and worries about the surroundings and situations.That is the right way to enjoy bagawaan Sri Krishna. DhEvaki prayed continuously to bagawan for his Darshan and her prayer became reality on one fine midnight in Mathura in the prison.

Yes! Bagawaan Sri Krishna, gave dharshan to DhEvaki and VasudhEva on Ashtami thithi [8th day] in Avaani month.Bagawaan selected Rohini star for his birth in this universe.Bagawaan Sri Krishna gave his dharshan with 4 hands.In those 4 hands, bagawan had Sangu, Chakram, Gadhei and Padhmam. Bagawaan Sri Krishna's body was decorated with lots of jewels and garlands. DhEvaki and VasudhEva were surprised and astonished on seeing Kichcha's four hands form. They enjoyed his beauty and sang sthothraa's on Him.

For these reasons only, now we people are celebrate the Rohini star and Ashtami thithi in avaani [Tamil] month in which our Kichcha came to this universe to gave dharshan to his great devotees. Some people celebrate the birth star [Rohini].Some people celebrate the Ashtami Thithi [8th day]. There is no controversy in these celebrations.If you want, you can celebrate both the days with pooja and naamasankeerthanam.Why not? Nowadays we know that almost everybody celebrating two birthdays.If it is okay with ordinary human beings, why not for the omnipresent evergreen beautiful Bagawan Sri Krishna. There is nothing wrong in that. You are celebrating ashtami thithi or rohini star its not important. The most important thing is you must realize bagawaan Sri Krishna's sanctity with you.

After seeing bagawaan Sri Krishna's divine form DhEvaki prayed him to give dharshan like a normal human baby.Bagawaan accepted his devotee's prayer and changed his form to a beautiful black baby with chubby cheeks and with lotus like feet, hands and lips.DhEvaki and VasudhEvar totally forgot everything after seeing this black beauty.Radhekrishna! How great this couple were! Bagawaan Sri Krishna gave happiness to DhEvaki for sometime and then He left for gOkulam on the same night to gave happiness to the great gOpi YashOdhaa.

YashOdhaa, the real devotee with Krishna consciousness lived on the banks of Yamuna river. Her husband NandhagOpar also did equal bakthi with her, prayed continuously for Krishna's baala leelas.

Their strong and unconditional faith with bagawan made Kichcha arrive to gOkulam. You must have a bakthi [devotion] like this couple to have Bagawaan Sri Krishna at your place. If you have the thirst to see bagawaan Sri Krishna you can see him.But, you must be a sathsishyaa of a Sathguru.

All the villagers in nandhagOkulam came and saw the black baby with lotus like eyes and lips.They celebrated His arrival.They sang and danced.They celebrated that day in a very very grand manner.They poured milk and curd on each other. They threw butter with joy on one other! They enjoyed unlimited happiness just because of bagawaan Sri Krishna's birth.YashOdhaa and NandhagOpar got Krishna only in their old age. You can wait for so many years to get bagawaan Sri Krishna's dharshan. Radhekrishna!!!! Everyday passed by very happily for the nandhagokulam villagers with Kichchaa's child play.

One day they saw that Bagawan Sri Krishna had his toe in his mouth and was nicely enjoying sucking it. They were drowned in that posture of Bagawaan Sri Krishna and forgot themselves. Bagawaan Sri Krishna is omnipotent and omnipresent. There is no doubt at all in it.But, Bagawaan Sri Krishna wants to give happiness to his bakthaas as they wish for.So He behaved like a innocent baby [pEdhaik kuzhavi].Sri Periyaazhvaar got merged in this posture of Bagawaan Sri Krishna.This is the great pose of bagawaan Sri Krishna. The true devotee only can enjoy this undressed Kichcha's pose. Radhekrishnaa! Radhekrishna! Radhekrishna! Radhekrishna! Radhekrishna! Radhekrishna! Hare Krishna!!!!!!!!!!!!!!!!!!!!!

Sri Periyaazhvaar enjoyed Bagawan Sri Krishna's beauty inch by inch. With that same happiness, he invites all jeevaathmaas to enjoy this great pose of bagawaan Sri Krishna. He particularly tells to enjoy the lotus feet of our Kichcha payal. Radhekrishna!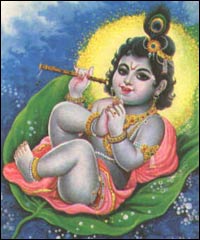 You all are cordially invited to come and attend this year's Sri Krishna jayanthi festival in Radhekrishna Sathsangam with our Poojya Shree Shree Amma to enjoy Bagawaan Sri Krishna like Dhevaki, VasudhEvar, YashOdhaa, NandhagOpar, Gopika's and great devotees.Radhekrishnaa!
top